Flat roof installation steps
STEP 1
Before the flat roof installation, sweep the roof clear of all loose chippings and debris check the substrate for any water damaged timberwork and replaced if required.
STEP 2
Underlay is fitted to the flat area of the roof only (not fully bonded system)
STEP 3
If the roof is designed to flow off into a flat roof gutter, a skirting will be attached. Staple or tack on to the front of the facia and not onto the top as shown on the install flat roof diagram.

STEP 4
The rubber sheet is positioned on the roof approximately 6″ back from the gutter edge and stapled or tacked to the outside edge of the sheet.

STEP 5
Whilst the batten is on the roof, the rubber sheet is draped down the wall and nailed or screwed through the batten, level with the roof.

STEP 6
When the batten is in place the sheet is brought back over to form a secure internal fixing.

STEP 7
If the flat roof adjoins the house wall, this can be bonded up the wall and into the seam between the brickwork. Or a lead flashing can be used if preferred.

STEP 8
If the flat roof adjoins a pitched roof, the rubber membrane will be taken up under the tiles approximately 12″ (minimum) and fixed to the roof timbers.
STEP 9
Where there is an upstand to the edge of the roof, the old felt will be removed where it overlaps the fascia board and the rubber membrane will then be bonded up and over the upstand and 2″ down the fascia.

STEP 10
Once the rubber membrane is fixed and in place, it only remains to ballast the roof using either rounded gravel or lightweight patio flags, providing the roof is suitable. Other mechanical and fully bonded systems are available if required.
Usually, repairing or replacing the roofing material of a flat roof home extension, garage, porch, dormer or garden shed etc, is straightforward, but occasionally, a flat roof will have details on it which will require you to cut the epdm rubber membrane.
For instance; skylights, pipes, outside corners etc. Advice on how to deal with these obstacles, or any other parts of the installation are available by contacting your DIY rubber flat roof specialist services.
Flat Roof Membrane Fixings
Fixing against upstand wall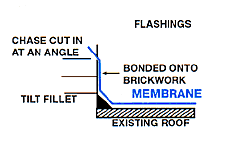 Internal fixing fold over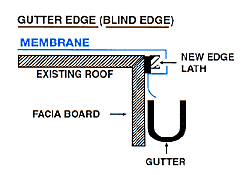 Placing under tiles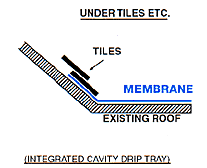 Upstand edge and edge trim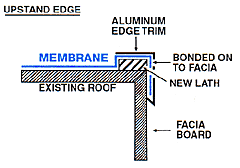 Sealing under coping stones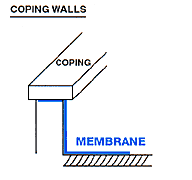 Flat roof outlet and pipe fixings